Welcome my Food & Beverage
Bonjour and hallo this picture and text are changes two weekly 2018, before the weekend. Here the top wine recommendation and the new cocktail where both with the menu changes every 14 days 2018. Well enjoy it and thank you et merci.
Hear now, below my cooking Entertainment with self-created 7 course of the menu cuisines de régional the fresh global market. I have created them in new organizational structure la classic, nouvelle cuisine. Now the contemorary slogan for all Gourmet- Haute- Regional Cuisines...
En Cuisine, comme dans tous les arts, la simplicité est la le signe de la perfection.
In kitchens, as in all arts, the simplicity is the identification of perfection.
In Küchen ist, wie in allen Künsten die Einfachheit der Ausweis der Perfektion.
Attention I started in 2017 my new Menu- nouvelle Cuisine and Buffet Pages. First with 2 classic, nouvelle cusine Menu2018 and 28 Menu 2017. Also two videos from Paul Bocuse. First about his wonderful menu and the second about his birthday our trendsetter and century cook since 1965 with teaching maxim for us. All menus to enlarge on mobile phone, tablet or click show Image here is the Link:
https://www.gewerbedr.at/Menu2017.html https://www.gewerbedr.at/Menu2018.html
Now my creative and tasteful new global classic nouvelle cuisine of the worldwide fresh market. Work with passion and learn, visit my Link:
https://www.gewerbedr.at/NouvelleCuisine.html
Here my handwork in creativity and innovation in the bourgeois not luxury catering buffet in new-time layout with some pictures, visit my Link.
https://www.gewerbedr.at/Buffet.html
Thereof you see different, creative menu also wild, vegetarian and vegan and normal dishes. Present time is a light cuisine during lunch announced. All my creative dishes can be an new inspiration for you, because we never heard in life to learn. Therefore work with passion. More about me in my meaningful online book the Link.
Richard Cuisiner et Patron as well as Counselor and absolutely a knowlegde-rich Consultant. I show you in practice everything personally, well let´s get ready to rumble...
What leads to a complete recovery for you?
Well a first class ambience with great innovative, creative food and beverage and emotions. Also the global best design of facilities and fittings decor and great equipment rooms and halls. Seasonal, regional, global fresh ingredients with gorgeous drinks and top service. All the wishes of the guest can be read by emphaty. Acurat the all around package Nature, Nature, Culture, Adventure...
Now the Group works as a learning and leisure destination in California. With property shares and ownership interest by Post Ranch Inn, Jean-Michel Cousteau Fiji Islands Resort, Hana Kai Maui Hotel, Sea Ranch Lodge. With stunning sea views and wonderful nature. It operates also a national park and a learning institute. Park Lodges, retreat centers are offer and Cavallopoint the lodge at the golden gate.
It has a natural restaurant and bar/ lounge, a healing center, great herbal atrium, a first class wine and olive oil center, own promenade and ample leisure paths. As well as event venues in different configurations. The profitable annual business plan includes great innovative programs on topics as environment, training of management, wellness, cooking, the arts and fitness with extensive landscape for many kinds of sports activities.
The 200,000 square foot project Cavallopoint on 45 acres in San Francisco Bay includes 142 rooms, 11,000 square feet of spa facilities, 15,000 square feet of event space of any kind. Make a round trip through the wonderful natural landscapes and sea views.
Let yourself be inspired and treat yourself to something! Now you have become curious? Click first on the Links and will be surprised:
https://www.cavallopoint.com/index.html or
https://www.postranchinn.com/ or
https://www.hanakaimaui.com or
You're gonna meet some gentle people there.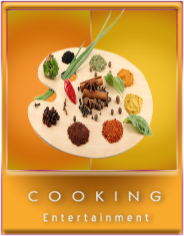 Thank you for visiting my Public Relations Page Entertainment Richard of Food and Beverage
Classic nouvelle Cuisine Menu changes every two weeks
1. Amuse Gueule aus Niedergar lauwarmen, gerupften Kalbsbauch an Estragon mit grüne Pflaumen an Heirloom Tomate an Trauben an eingelegter Ingwer an Mizuna an einer Orangensaft Erdnussöl Vinaigrette, Schnittlauch
Amuse gueule from Niedergar lukewarm veal belly on tarragon with green plums on heirloom tomato on grapes on pickled ginger on Mizuna on an orange juice peanut oil Vinaigrette, chives
2. Okroshka Kaltschale besteht aus Buttermilch, Gurken, frischen Dill, Frühlingszwiebeln, Senf, Lucia Radieschen Scheiben und gekochte Eier
Okroshka cold shell consists of buttermilk, cucumbers, fresh dill, spring onions, mustard, Lucia radish slices and boiled eggs
3. Thai Spargel Mousse an Agar Agar auf Lachstatar an Zitronen Zeste, Sake, Koriander auf Gartenmelde mit gebratenen Spargel Hälften in Sud mariniert
Thai asparagus mousse on agar agar on salmon tartare with lemon zest, sherry, coriander marinated on garden table with fried asparagus halves in broth
4. Niedergar rosa Elchrücken Scheibe an fermentierten Knoblauch in der aufgeschnittenen Bohne, glacierte Burro Gigante, geräucherte Iberico Bauchspeckscheibe und reduzierte Lammsauce aus deren Knochen
Lower cooking meduim Moose move slice of fermented garlic in the sliced bean, glazed Burro Gigante, smoked Iberico Bacon slice and reduced lamb sauce from their bones
5. Gegrillter Schwertfisch an Daikonscheibe und gebratenen Chicoree Blatt gefüllt mit Posthörnchen Erbsen und deren Creme als Spiegel, Sesam, Klee und Pistazienstaubringe als Spiegel
Grilled swordfish on daikon slice and fried chicory Leaves filled with meringue peas and their cream as a mirror, sesame seeds, clover and pistachio dust rings as a mirror
6. Zweierlei von Sous Vide Fasanbrust- und Flanksteak als Tranche, Kürbiskern-Sägepalmextrakt als Brösel, Blutorangen, Süsskartoffel Püree, Möhrenscheiben und á part reduzierte Hagebuttensauce aus deren Knochen
Two kinds of sous vide pheasant breast and flank steak as a portion, pumpkin seed saw palmetto extract as crumbs, blood oranges, sweet potato puree, carrot slices and á part reduced rosehip sauce from their bones
7. Frischer Kokosnuss Pudding in Ringform an Himbeer Consommé mit Foy Thong (Engelshaar) und glacierten Feigenscheiben mit Rosen- und Borretsch Blätter
Fresh coconut pudding in ring form on raspberry consommé with foy thong (angel hair) and glazed fig slices with rose and borage leaves
> 2013 Almaviva Valle de Maipo Rothschild & Concha y Toro
Die Rebsorten dieser klassischen Cuvée sind Cabernet Sauvignon und Carmenere mit einer Spur Cabernet Franc und Merlot. Wird im Holzfass gereift. Sehr intensives kirschfarbenes Schwarzrot. Dichter, atemberaubender Anflug als opulentes Bouquet mit kräftigen Aromen auch von Brombeeren, schwarzen Johannisbeeren, Veilchen und Lakritz, neben feinen Noten von Vanille, Kaffee, schwarzem Pfeffer, Weihrauch und Bitterschokolade. Auf dem Gaumen breit, bei präsenten Tanninen, rund und bereits sehr geschmeidig. Gehobene Eleganz. In der Nase sortentypisches fruchtiges Bukett mit einer Note von schwarzen Kirschen, Cassis und Pflaumen. Sein weiches, perfekt integriertes Tannin am Gaumen begeistert ebenso wie sein kraftvoller Geschmack von reifer Frucht mit sehr langem Abgang. Besitzt 15% Alkohol und wird durch den Weinbelüfter bei 8-9 Grad getrunken.
The grape varieties of this classic cuvée are Cabernet Sauvignon and Carmenere with a hint of Cabernet Franc and Merlot. Is matured in a wooden barrel. Very intense cherry-red black. Dense, breathtaking approach as opulent bouquet with strong aromas of blackberries, blackcurrants, violets and licorice, in addition to subtle notes of vanilla, coffee, black pepper, frankincense and bitter chocolate. Broad on the palate, with prominent tannins, round and already very smooth. Aristocratic elegance. Nose-typical fruity bouquet with notes of black cherries, cassis and plums. Its soft, perfectly integrated tannin on the palate inspires as well as its powerful taste of ripe fruit with a very long finish. Has 15% alcohol and is drunk through the wine aerator at 8-9 degrees.
> 2005 Champagne Dom Pérignon Rosé
Diese Verbindung von Chardonnay und Pinot Noir lassen Aromen von Curryblättern und Guave, gerösteten Gewürzen und Kakao, sowie zarter Lakritz und saftigen Blutorangen schmeichelt an den Gaumen heran. Brilliantes Rosé, Malznote mit reifen Fruchtakzenten wie Nektarine und Walderdbeere mit erdiger Komponente. Der Abgang mit würziger Vanillenote. Kraftvoll und energisch kitzelt diese Verbindung die Geschmacksknospen. Er überzeugt mit seinem anregenden Charakter und der sich steigernden Vollmundigkeit. Enthält 12,5% Alkoholgehalt und wird gekühlt bei 10 Grad aus dem Champagnerglas getrunken.
This combination of Chardonnay and Pinot Noir leaves aromas of curry leaves and guava, roasted spices and cocoa, as well as delicate liquorice and juicy blood oranges to the taste buds. Brilliant rosé, malt notes with ripe fruit accents such as nectarine and wild strawberry with earthy component. The finish with a spicy vanilla note. Powerful and energetic, this compound tickles the taste buds. He convinces with his inspiring character and the increasing fullness. Contains 12.5% alcohol content and is drunk cooled at 10 degrees from the champagne flute.
> Aperitif Bramble Cocktail
5cl Caorunn Gin, 2cl frischer Limettensaft, 1cl Zuckersirup (Läuterzucker), 6 Brombeeren zum Zerstampfen, 1 Brombeere zur Dekoration und Rosmarinzweig. 50% Alkoholgehalt. Zunächst die Brombeeren in den Tumbler geben und mit einem Stößel leicht zerdrücken. Anschließend den Tumbler mit Crushed Ice oder Eiswürfeln auffüllen. Alle flüssigen Zutaten, also Gin, Limettensaft und Zuckersirup in den Tumbler füllen und mit einem Barlöffel umrühren. Dann in ein Vorgekühltes bauchiges Glas durch das Barsieb abseihen. Nach Belieben mit einer Brombeere und Rosmarinzweig dekorieren.
5cl Caorunn gin, 2cl fresh lime juice, 1cl sugar syrup (glucose), 6 blackberries for crushing, 1 blackberry for decoration and sprigs of rosemary. 50% alcohol content. First, place the blackberries in the tumbler and gently crush with a pestle. Then top up the tumbler with crushed ice or ice cubes. Fill all liquid ingredients, so gin, lime juice and sugar syrup in the tumbler and stir with a bar spoon. Then strain a pre-cooled bulbous glass through the strainer. Decorate as desired with a blackberry and sprig of rosemary.
Die genaue Weinkunde und mehr steht in meinem online book Kapitel C Punkt 2. Wie Lagerung, Erstellung, Kühlung, Weinbegriffe, Rebsorten und schon 29 internationale Cocktail mit Rezepturen, Trends wo alle 14 Tage im XI. Kapitel meines online Buch ein neuer Cocktail hinzukommt,
The exact wine pair and more is in my online book chapter C point 2 up there the Link. How storage, creation, cooling, vines, grape varieties and already 29 international cocktail, recipes, trends where every 14 days in the XI. Chapter of my online book a new cocktail.
then Prost or Cheers or Santé or Cin cin or Salud or Skål or Evviva