Welcome my Food & Beverage
Bonjour and hallo this picture and text and video are changes two weekly 2018, before the weekend. Here the top wine recommendation and the new cocktail where both with the menu changes every 14 days 2018. Well enjoy it and thank you merci.
Hear now, below my cooking Entertainment with self-created 7 course of the modern menu cuisines de régional la classic nouvelle cuisine. I have all created them in new organizational structure la modern classic, nouvelle cuisine. Now the important contemorary slogan for all Gourmet- Haute- Regional Cuisines...
En Cuisine, comme dans tous les arts, la simplicité est la le signe de la perfection.
In kitchens, as in all arts, the simplicity is the identification of perfection.
In Küchen ist, wie in allen Künsten die Einfachheit der Ausweis der Perfektion.
Attention I started in 2017 my new Menu- nouvelle Cuisine and Buffet Pages. First with 7 modern classic, nouvelle cusine Menu2018 and 28 modern Menu 2017. Also two videos from Paul Bocuse. First about his wonderful menu and the second about his last 90 birthday our trendsetter and century cook since 1965 with teaching maxim for us. All menus to enlarge on mobile phone, tablet or click show Image, the Links:
https://www.gewerbedr.at/Menu2017.html https://www.gewerbedr.at/Menu2018.html
Now my creative and tasteful new global modern classic nouvelle cuisine of the worldwide fresh market. Work with passion and learn, my Link:
https://www.gewerbedr.at/NouvelleCuisine.html
Here my handwork in creativity and innovation in the bourgeois not luxury catering buffet in new-time layout with some pictures, visit my Link.
https://www.gewerbedr.at/Buffet.html
Thereof you see different, creative modern menu also wild, vegetarian and vegan and normal dishes. Present time is a light cuisine during lunch announced. All my creative dishes can be an new inspiration for you, because we never heard in life to learn. Therefore work with passion. More about me in my meaningful online book the Link.
Richard Cuisiner et Patron as well as Counselor and absolutely a knowlegde-rich Consultant. I show you in practice everything personally, well let´s get ready to rumble...
What leads to a complete recovery for you?
Well a first class ambience with great innovative, creative food and beverage and emotions. Also the global best design of facilities and fittings decor and great equipment rooms and halls. Seasonal, regional, global fresh ingredients with gorgeous drinks and top service. All the wishes of the guest can be read by emphaty. Acurat the all around package Nature, Nature, Culture, Adventure...
Now the Group works as a learning and leisure destination in California. With property shares and ownership interest by Post Ranch Inn, Jean-Michel Cousteau Fiji Islands Resort, Hana Kai Maui Hotel, Sea Ranch Lodge. With stunning sea views and wonderful nature. It operates also a national park and a learning institute. Park Lodges, retreat centers are offer and Cavallopoint the lodge at the golden gate.
It has a natural restaurant and bar/ lounge, a healing center, great herbal atrium, a first class wine and olive oil center, own promenade and ample leisure paths. As well as event venues in different configurations. The profitable annual business plan includes great innovative programs on topics as environment, training of management, wellness, cooking, the arts and fitness with extensive landscape for many kinds of sports activities.
The 200,000 square foot project Cavallopoint on 45 acres in San Francisco Bay includes 142 rooms, 11,000 square feet of spa facilities, 15,000 square feet of event space of any kind. Make a round trip through the wonderful natural landscapes and sea views.
Let yourself be inspired and treat yourself to something! Now you have become curious? Click first on the Links and will be surprised:
https://www.cavallopoint.com/index.html or
https://www.postranchinn.com/ or
https://www.hanakaimaui.com or
You're gonna meet some gentle people there.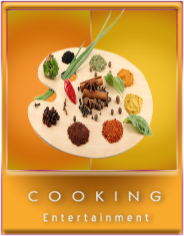 Thank you for visiting my Public Relations Page Entertainment Richard of Food and Beverage
Classic nouvelle Cuisine Menu changes every two weeks
1. Amuse Gueule besteht aus mit Reispapier bedecktes Glas an dekorierten Blütenblätter und gefüllt mit Morchel Creme auf Fava Bohnen Mousse an sautierte Gerstengraupen in Ras el Hanout
Amuse Gueule consists of rice paper-covered glass on decorated petals and filled with morel cream on fava bean mousse on sautéed barley barley in Ras el Hanout
2. Gedämpfte Kimchi- Wirsingroulade auf Topinambur Püree an Karotten-Frühlingszwiebel Salat an Soja- Zitronengras- Ingwer- Chilli Dressing und Sauce Samitane Ableitung von der Demi Glace
Steamed kimchi and savoy cabbage on Jerusalem artichoke Puree on carrot spring onion Salad with soy and lemongrass, ginger and chilli dressing Sauce Samitane Derived from the Demi Glace
3. Niedergar Taubenbrust Tranchen an frischen Thymian auf gedämpften Pak Choi an Baby Möhrencreme als Spiegel an Enoki Pilze, gerösteten Haselnüssen und á part Taubenjus
Lower cooking Pigeon Breast Tranches of fresh thyme on steamed pak choi on Baby carrot cream as a mirror of Enoki mushrooms, roasted hazelnuts and á part of pigeon jus
4. Potpourri aus frischen, gesteamten Frühlingsgemüsen, Radiesschen und kleine Zwiebeln auf Erbsen Rundkornreis Risotto in deren Saft gekocht an etwas Parmesan Reggiano
Potpourri made from fresh spring vegetables, radishes and small onions on peas Risotto with its juice cooked on some Parmesan Reggiano
5. Glasig, gebratenes Seebrasse Filet mit tasmanischem Pfeffer in Butter Maillard an Wegrich Cannelloni mit gebackene Flügelbohnen als Bällchen, Wildkräuterfond
Glassy, fried seabream filet with Tasmanian pepper in butter Maillard at Wegrich Cannelloni with baked winged bean balls, wild herb stock
6. Niedergar Spanferkelschulter mit krosser Haut an karamellisierter Apfel Kompott Nocke, Sellerietupfer, geröstete Körner als Ragout und reduzierten Sherry Jus aus den Spanferkelknochen gezogen
Lowercooking suckling pig shoulder with crisp skin on caramelized apple compote cam, celery swab, roasted grains as ragout and reduced sherry jus pulled from the suckling pig bones
7. Birnenstrudel mit Kardamom, Piment an Pfirsich Sorbet auf Crumble an karamelisierte Kumquats, weiße Praline, Meringue, Essblüten
Pear strudel with cardamom, allspice of peach sorbet on crumble with caramelized kumquats, white praline, meringue, and edible flowers
Zu Tisch in Volterra - Cuisines des terroirs
> Rothschild / Mondavi Opus One Overture
Die Rebsorten sind Petit Verdot, Malbec, Merlot, Cabernet Sauvignon, Cabernet Franc. Da die einzelnen Reben jeweils aus den für Ihre Reife besten Jahrgängen kombiniert werden, ist die Gesamt Cuvée ohne einen bestimmten Jahrgang ausgewiesen. Die Edition wurde im Jahr 2015 auf die Flasche gefüllt, was der Lot-Nummer zu entnehmen ist. Gelagert wird der Wein in erster Linie in neuer französischer Eiche, zu kleineren Mengen, außerdem in ein bis zwei Jahre alten französischen Eichenfässern. Overture zeigt eine vibrierende Granatfarbe mit ausdrucksstarken Aromen von frischen roten Früchten. Noten von heller Kirsche und roter Johannis- beere werden durch erdige Töne von gemahlenem Kakao, Zedernholz und Vanille unterstrichen. Die verlängerte Fassreifung verleiht dem Wein eine elegante Textur, die durch rundes Tannin und ein weiches Mundgefühl betont wird. Alle fünf Reben bilden in harmonischem Einklang die endgültige Mischung, und obwohl Cabernet Sauvignon vorherrscht, wird sich die Sorten Zusammensetzung der Overture immer weiterentwickeln. Besitzt 14.5 % Alkohol und wird durch den Weinbelüfter bei 18 Grad getrunken.
The grape varieties are Petit Verdot, Malbec, Merlot, Cabernet Sauvignon, Cabernet Franc. Since the individual vines are each combined from the best vintages for their maturity, the total cuvée is shown without a specific vintage. The edition was filled in 2015 on the bottle, which can be seen from the lot number. The wine is stored primarily in new French oak, to smaller quantities, also in one to two years old French oak barrels. Overture shows a vibrant garnet color with expressive aromas of fresh red fruit. Notes of bright cherry and red currant are underlined by earthy notes of ground cocoa, cedar and vanilla. The extended barrel maturation gives the wine an elegant texture, emphasized by round tannins and a soft mouthfeel. All five Bordeaux vines blend harmoniously to create the final blend, and although Cabernet Sauvignon predominates, the Overture variety composition will continue to evolve. It has 14.5% alcohol and is drunk at 18 degrees by the wine aerator.
> Champagne Baron- Fuenté Dolorès Rosé Brut AC
Die große Besonderheit eines Rosé-Champagners ist die Assemblage aus der weißen Sorte der Champagne und den beiden Roten. So treffen hier 60% Chardonnay auf Pinot Noir und Meunier zusammen. Der Chardonnay liefert die pure Klarheit und Kraft, die Pinots eine herrlich warme und reife Frucht von Erdbeeren und reifem, rotem Apfel. Der Rosé Dolorès hat eine klare Kontur, wird mit der Zeit immer komplexer und bietet viel Frische im Trinkvergnügen. Hervorgegangen aus der fachmännischen Zusammen- stellung der drei Champagner-Rebsorten, verbindet dieser fruchtige Rosé den Charakter von Gabriel Baron und Dolorés Fuente aus Andalusien. Rosenfarben mit leichten Kupferreflexen, mit einer reichen Nase aus roten und schwarzen Beeren und Aromen von Feingebäck. Vollmundig und fruchtig mit einem leichten und runden Tannin. Besitzt 12.5% Alkohol und bei 8 Grad aus den Champagnerglas getrunken.
The great peculiarity of a rosé champagne is the Assemblage of the white variety of Champagne and the two red. This is how 60% of Chardonnay meets Pinot Noir and Meunier. The Chardonnay delivers pure clarity and power, the Pinots a wonderfully warm and ripe fruit of strawberries and ripe, red apple. The Rosé Dolorès has a clear contour, becomes more complex with time and offers a lot of refreshing drinking pleasure. Emerging from the professional composition of the three champagne grape varieties, this fresh and fruity rosé combines the character of Gabriel Baron, a pure champagne, and Dolores Fuente from Andalusia. Rose color with light copper reflections, with a rich nose of red and black berries and aromas of fine pastry. Full-bodied and fruity with a light and round tannin. Has 12.5% alcohol and drunk at 8 degrees from the champagne flute.
> Aperitif Cherry Blossom Cocktail
3 cl Brandy, 1 cl Cherry Brandy, 2 cl frischer Limettensaft, 1 Dash(Spritzer) Grenadine. Besitzt 25% Alkoholgehalt. Die im Shaker mit Eis gut geschüttelten Zutaten in eine Vorgekühlte Cocktailschale abseihen. Eine Dekoration mit Fruchtspieß oder Cocktailkirsche ist für das Auge é voila.
3 cl brandy, 1 cl cherry brandy, 2 cl fresh lime juice, 1 dash (splash) of grenadine. Has 25% alcohol content. Strain the ingredients well shaken in the shaker with ice into a pre-cooled cocktail dish. A decoration with fruit skewer or cocktail cherry is for the eye é voila
Die genaue Weinkunde und mehr steht in meinem online book Kapitel C Punkt 2. Wie Lagerung und Erstellung, Kühlung, Weinbegriffe, Rebsorten und schon 35 internationale Cocktail mit Rezepturen und Mocktails Rezepte, wo alle 14 Tage im XI. Kapitel meines online Buch, ein neuer alkoholischer Cocktail dazu kommt.
The exact oenology and more is available in my online book chapter C point 2. Such as storage and preparation, refrigeration, wine terms, grape varieties and already 35 international cocktail recipes and mocktails recipes, where every 14 days in the XI. Chapter of my online book, a new alcoholic cocktail comes along.
then Prost or Cheers or Santé or Cin cin or Salud or Skål or Evviva