Welcome my Food & Beverage
Bon mon dieu this picture and video are changes two weekly 2017, before the weekend. The menu and wine is written in German, let you translated in your language, thank you et trés chic merci.
Hear now, below my cooking Entertainment with self-created 6-7 course of the menu cuisines de régional the fresh global market. I have created them in new organizational structure la classic, nouvelle cuisine in a clear craft, well more about me in my online book as Link you know...
Attention I start 2017 my new Menus-Buffet-nouvelle Cuisine Pages. First with 22 classic, nouvelle cusine Menu2017 and so on and a video from Paul Bocuse in his restaurant about the menu, our trendsetter and century cook since 1965. All menus are easy to enlarge on mobile phone or tablet or click show Image at my Link:
https://www.gewerbedr.at/Menu2017.html
Also 109 classic nouvelle cuisine Menu2016 in creativity of the innovations of mine. And a German video about the basic philosophy of Paul Bocuse our trendsetter since 1965 on his 90th birthday, well here is my Link:
https://www.gewerbedr.at/Menu2016.html
Now, to inspire my new page from the global classic nouvelle cuisine of the worldwide fresh market. Work with passion and learn, my Link:
https://www.gewerbedr.at/NouvelleCuisine.html
My handwork in creativity and innovation in the bourgeois not luxury catering buffet in new-time layout with some pictures, here is my Link.
https://www.gewerbedr.at/Buffet.html
Thereof you see different, creative menu also wild, vegetarian and vegan and normal dishes. Present time is a light cuisine during lunch announced. All my creative dishes can be an new inspiration for you, because we never heard in life to learn.
Richard Cuisiner and Counselor a knowlegde-rich Consultant. I show you in practice everything personally, well let´s get ready to rumble...
What leads to a complete recovery for you?
Well a first class ambience with great innovative, creative food and beverage. Also the global best design of facilities and fittings decor and great equipment rooms and halls. Seasonal, regional and global fresh ingredients with gorgeous drinks and top service. All the wishes of the guest can be read by emphaty. Acurat the all around package. Nature, Nature, Culture, Adventure...
Now the Group works as a learning and leisure destination in California. With property shares by Post Ranch Inn, Jean-Michel Cousteau Fiji Islands Resort, Hana Kai Maui Hotel, Sea Ranch Lodge. It operates a national park, one of the largest and most popular urban national parks in the world, a learning institute. Park Lodges, retreat centers are on offer and Cavallopoint, the lodge at the golden gate. It has a natural restaurant and bar/lounge, a healing center, great herbal atrium, a first class wine and olive oil center, own promenade, ample leisure paths and a great bowling alley. As well as event venues in different configurations for seminars, educational programs, social events. The profitable annual business plan includes innovative programs on topics as environment, training of management, wellness, cooking, the arts, fitness with extensive landscape for many kinds of sports activities.
The 200,000 square foot project Cavallopoint on 45 acres in San Francisco Bay includes 142 rooms, 11,000 square feet of spa facilities, 15,000 square feet of event space of any kind. Now you have become curious? Well visit the lodge at the golden gate, click first on the Link: cavallopoint
Listen now, do you know the song San Francisco? Fine and let's sing together, if you're going to San Francisco, be sure to wear some flowers in your hair, if you're going to San Francisco, you're gonna meet some gentle people there....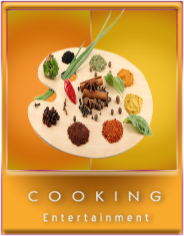 Thank you for visiting my Public Relations Page Entertainment Richard of Food and Beverage
Classic nouvelle Cuisine Menu changes every two weeks
1. Amuse Gueule aus kalt geräucherten Lachsfilet als Tranche auf Rhabarberessenz mit Süss- und violette Kartoffelchips an gedämpfte Akazientriebe, geschmorrte rote Zwiebelringe mit etwas Sauce Béarnaise
2. An gehackten Wildkräuter marnierte Radiesschen, Gurken- Möhren- Mangold- Rettichröllchen mit Rosmarin parfümiertes Olivenöl-Limette und Akazienhonig auf grüner Sauce
3. karamelisierter Le Cendrillon Käse an Tahiti-Vanille mit rote Bete- Mousse und deren Cremespiegel an Kürbisnockerl, á part lauwarme frische Maisfladen im Bambuskörbchen
4. Viridis-Spinat-Gnocchi an Haselnuss-Pesto an Thymianmus-Tupfer mit gebratene Zuchinistücke- und grüner Spargel an Borretsch und Bärlauch
5. gegrillter Humbold-Kalmar auf Guanciale und Kichererbsen-Relish mit Chimichurri und Betelblätter, junge Gacfruchtmus- Flügelbohnenstreifen
6. Kalbsbauchroulade mit Ricotta und katalonische Zwiebel und Roma Tomate mit englischer Senf- Knoblauch- Spinat gefüllt an Wurzelpetersilie cremestreifen und glacierten Enoki Pilze auf Schieferplatte angerichtet á part Sauce créme á l´anglaise
7. Halbe weiße Valrhona Schokoladen-Nussformkalbkugel mit marnierten Himbeeren und Himbeer-Agar-Agar-Geleekugel gefüllt und krosse helle Erdbeer-Merinquekugeln an Erdbeerdips und Verbenablätter
> Rothschild Anderra Sauvignon Blanc 2015
Besteht aus der Rebsorte Sauvignon Blanc. Unter dem Namen "Anderra", einer kunstvollen Verbindung aus den spanischen Wörter "Andes" und "Tierra" entstehen seit jeher authentische Weine wie dieser Sauvignon Blanc, in denen die außergewöhnliche aromatische Palette des chilenischen Terroirs mit dem Know-How von Baron Philippe de Rothschild verschmelzen. Der Anderra Sauvignon Blanc stammt aus dem Valle Central, südlich von Santiago. Um zu gewährleisten, dass die Trauben ihre natürliche Frische erhalten, wird das Lesegut schon bei der Lese im Weinberg äußerst sorgfältig ausgewählt. Ebenfalls, um dem Weißwein nicht seine für die Rebsorte Sauvignon Blanc so typische Frische zu rauben, wird der junge Wein für sechs Monate nicht wie etwa im Barrique vergoren. Im Glas zeigt sich der Anderra Sauvignon Blanc mit einem herrlich schimmernden Hellgelb. Der Sauvignon Blanc ist trocken, frisch, elegant und kraftvoll mit nun sehr markanten Noten von exotischen Früchten, wie Mango, Maracuja und reifen Zitrusfrüchten. Im Bukett duftet er frisch und elegant mit Aromen von weißem Pfirsich, die fast tropisch wirken. Am Gaumen mit Noten von Passionsfrucht, Nektarine und Grapefruit. Besitzt 12.0% Alkoholgehalt und wird gekühlt bei 8°-10° durch den Weinbelüfter oder in eine Karaffe umgeleert, dann aus den Weißweinglas getrunken.
> Moët & Chandon Nectar Impérial Rosé
Besteht aus den Rebsorten Pinot Noir, Pinot Meunier und Chardonnay. Impérial Rosé überzeugt durch sein intensives, fruchtiges Aroma und reifen Geschmack von Wilderdbeere, Brombeere, schwarzer Johannisbeere und Kirsche akzentuiert mit berauschenden Blumennoten! Dieser besondere halbtrockene Champagner begeistert auch mit herrlich fruchtigen Aromen von Kirschen und Wildbeeren und seinem eleganten und erfrischenden Charakter. Beerig, blumig und in ansprechenden lachsfarbenen Nuancen zeigt sich der Nectar Imperial Rose. Dieser Rosé-Champagner ist die Essenz des Könnens der Kellermeister. Süß und fruchtig umschmeichelt der Schaumwein den Gaumen und weckt das Verlangen nach einem weiteren Glas. Besitzt 12,0% Alkoholgehalt und wird gekühlt bei 8° im Champagnerglas getrunken.
> Aperitif Sazerac Cocktail
1cl Zuckersirup(Läuterzucker), 1cl Absinth, 3 Dashes(Spritzer) Peychaud's Aromatic Bitter, 5cl Rémy Martin XO 1st Cru Cognac. 50% Alkoholgehalt. Tumbler mit Absinth parfümieren, das heißt Absinth in den Tumbler geben mit Eis und Wasser auffüllen und schwenken, bis die komplette Glasinnenseite damit benetzt ist. Im Rührglas die restlichen Zutaten mit Eiswürfeln und Stirrer verrühren. Tumbler komplett ausleeren, ist der letzte Akt des parfümieren. Inhalt des Rührglases in den Tumbler strainen, mit Orangenzeste aromatisieren und Hineingeben. Bei Wunsch auf große Eiswürfel servieren. Dekor Zitronenschalespirale.
Die genaue Weinkunde und mehr steht in meinem online book Kapitel C Punkt 2. Wie Lagerung, Erstellung, Kühlung, Weinbegriffe, Rebsorten und schon 21 internationale Cocktail mit Rezepturen, Trends wo alle 14 Tage im XI. Kapitel meines online Buch ein neuer Cocktail hinzukommt,
dann Prost oder Cheers oder Santé oder Cin cin oder Salud oder Skål