Welcome my Food & Beverage
Bonjour and hallo this picture and video and text are changes two weekly 2017, before the weekend. Here the top wine recommendation and the new cocktail where both with the menu changes every 14 days. Well enjoy it and thank you et merci.
Hear now, below my cooking Entertainment with self-created 7 course of the menu cuisines de régional the fresh global market. I have created them in new organizational structure la classic, nouvelle cuisine. Now the contemorary slogan for all Gourmet- Haute- Regional Cuisines...
En Cuisine, comme dans tous les arts, la simplicité est la le signe de la perfection.
In kitchens, as in all arts, the simplicity is the identification of perfection.
In Küchen ist, wie in allen Künsten die Einfachheit der Ausweis der Perfektion.
Attention I started in 2017 my new Menu- nouvelle Cuisine and Buffet Pages. First with 26 classic, nouvelle cusine Menu2017. Also one videos from Paul Bocuse about his wonderful menu our trendsetter and century cook since 1965 with teaching maxim for us. All menus to enlarge on mobile phone, tablet or click show Image here is the Link:
https://www.gewerbedr.at/Menu2017.html
Now my creative and tasteful new global classic nouvelle cuisine of the worldwide fresh market. Work with passion and learn, visit my Link:
https://www.gewerbedr.at/NouvelleCuisine.html
Here my handwork in creativity and innovation in the bourgeois not luxury catering buffet in new-time layout with some pictures, visit my Link.
https://www.gewerbedr.at/Buffet.html
Thereof you see different, creative menu also wild, vegetarian and vegan and normal dishes. Present time is a light cuisine during lunch announced. All my creative dishes can be an new inspiration for you, because we never heard in life to learn. Therefore work with passion. More about me in my meaningful online book the Link.
Richard Cuisiner et Patron as well as Counselor and absolutely a knowlegde-rich Consultant. I show you in practice everything personally, well let´s get ready to rumble...
What leads to a complete recovery for you?
Well a first class ambience with great innovative, creative food and beverage and emotions. Also the global best design of facilities and fittings decor and great equipment rooms and halls. Seasonal, regional, global fresh ingredients with gorgeous drinks and top service. All the wishes of the guest can be read by emphaty. Acurat the all around package Nature, Nature, Culture, Adventure...
Now the Group works as a learning and leisure destination in California. With property shares and ownership interest by Post Ranch Inn, Jean-Michel Cousteau Fiji Islands Resort, Hana Kai Maui Hotel, Sea Ranch Lodge. With stunning sea views and wonderful nature. It operates also a national park and a learning institute. Park Lodges, retreat centers are offer and Cavallopoint the lodge at the golden gate. It has a natural restaurant and bar/ lounge, a healing center, great herbal atrium, a first class wine and olive oil center, own promenade and ample leisure paths. As well as event venues in different configurations. The profitable annual business plan includes great innovative programs on topics as environment, training of management, wellness, cooking, the arts and fitness with extensive landscape for many kinds of sports activities.
The 200,000 square foot project Cavallopoint on 45 acres in San Francisco Bay includes 142 rooms, 11,000 square feet of spa facilities, 15,000 square feet of event space of any kind. Make a round trip through the wonderful natural landscapes and sea views. Let yourself be inspired and treat yourself to something! Now you have become curious? Click first on the Links and will be surprised:
https://www.cavallopoint.com/index.html or
https://www.postranchinn.com/ or
https://www.hanakaimaui.com or
Well, you're gonna meet some gentle people there.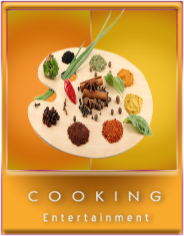 Thank you for visiting my Public Relations Page Entertainment Richard of Food and Beverage
Classic nouvelle Cuisine Menu changes every two weeks
1. Amuse Gueule besteht aus gefüllter Zucchini Galantine mit gewürztem violetten Blumenkohlmantel auf etwas gebratenen Scotch Bonnet und gewürztes Petersilieöl und deren Gel an gehärtetem Eigelb in der Schale
Amuse Gueule consists of stuffed courgette galantine with spiced purple cauliflower on Scotch Bonnet and spiced parsley oil and its gel of hardened yolk in the shell
2. Gebeizte, lauwarme Selleriescheibe in kalten Gurken- Pfenningkraut-Gundermann-Spitzwegrich- Wildkräuter Sud,Heidelbeeren, Fenchelspitzen
Pickled, lukewarm celeriac in cold cucumber pennywort- ground ivy- ribwort plantain- wild herbs sud with blueberries and fennel tips
3. Gefüllte Sous-vide Kaninchenroulade, Wirsinggrün und Kohlrabipüree, Buchweizen, Pistazien Kracher und Kohlsprossenspiegel, Vollkornsenf-reduktion aus stark reduzierten Wildfond
Stuffed sous-vide rabbit roulade with savoy cabbage green on kohlrabi purée, buckwheat, pistachio crackers with cabbage sprouts, wholegrain edible reduction
4. Sous vide von dreierlei Rüben an Sherry- Distelöl- Vinaigrette an pickled Schalotten und Rettich Green Luobo mit Kresse und paar Basilikumdips
Sous vide of three beets with sherry thistle oil vinaigrette on pickled shallots and radish Green Luobo with cress and some basil dips
5. glasig gegrilltes Kabeljau Stück an Raucharoma an Limettenzeste und Blutwurst- Risotto-Majoranring, grüner Spargel und sehr fein gehackten Pfifferlinge an frischen Oursinade (Seeigel) mit Gonaden
Glassy grilled cod a piece of smoke flavor of lime zest and black pudding risotto marjoram ring, green asparagus and finely chopped chanterelles and fresh oyster (sea urchin) with gonads
6. Niedergar rosa Hirschrücken als Tranche an Rosmarin, Steinpilz-WanTan Teigtasche und stark reduzierte Wildknochen-Sake-Sauce an Williams- Birnen als Kugeln am Stiel an schwarzen, gerösteten Sesam und frischen Korianderblätter
Cook lower temperature medium rare deer back as a tranche of rosemary, porcini Wonton dough ling and greatly reduced wild bone and sake sauce on Williams pear as a ball on a stick, black, roasted sesame, coriander leaves
7. Gelbe Nektarinen- Agar-Agar- Cremenocke auf in Grand Marnier gebeizten Mangoscheiben mit Pfirsichhalbkugel- Mousse an Baiser und Kamilleblüten und Holunderblüten mit Giersch
Yellow nectarine agar-agar cream sock on mango slices stained in Grand Marnier with peach hemispheres mousse on meringue and chamomile flowers and elderflower with ground elder
> Blason de l'Evangile Pomerol AOC 2012 Château Duhart- Milon-Rothschild
Der trockene Pomerol ist der Zweitwein der berühmten Pomerol-Legende Chateau l'Evangile. Die Rebsorten sind Merlot und Cabernet Franc. Als eines der ältesten Châteaus im Pomerol, seine Historie lässt sich bis 1741 zurückverfolgen, war es lange im Besitz von Jean Paul Chaperon, der dem Château seinen heutigen Namen gab. Anschließend übernahm die Ducasse Familie, welche es schließlich in den Jahren 1990 und 1999 an Château Lafite Rothschild verkaufte. Er hat die Eigenschaften ähnlich des Grand Vin, aber weniger Potential für das Altern, da er eine Kürzere Fassreifung erhält. Der Wein hat die für Pomerol typische Samtigkeit. In der Nase Aromen von Waldbeeren, Kirschen und Schokolade auch Rauch und Pfeffer. Der Wein ist eine herausragende Leistung, bei der reichlich schwarze Himbeer- und Brombeerfrucht mit einem Hauch von Kampfer, schwarzen Trüffeln und subtiler neuer Eiche vermischt werden. Opulent, rund und großzügig mit beeindruckender Reinheit sowie einem fortschrittlichen Stil ausgestattet, sollte ihn jung trinken. Im Gaumen mit veloursartiger Textur, traumhafte Balance, die Tannine sind erstaunlich fein, erhabenes Finale. Im Nachklang spürt man die zartbittere Rasse der Gerbstoffe auf der Zunge, endet in feine Nuancen des Darjeeling und Lakritze mit einem langen Abgang. Enthält 13.5% Alkoholgehalt und wird durch den Weinbelüfter bei 18 Grad getrunken.
The dry one Pomerol is the second wine of the famous Pomerol legend Chateau l'Evangile. The grape varieties are Merlot and Cabernet Franc. As one of the oldest Châteaus in Pomerol, its history can be traced back to 1741, it was long owned by Jean Paul Chaperon, who gave the Château its present name. Then took over the Ducasse family, which eventually sold it in the years 1990 and 1999 to Château Lafite Rothschild. It has properties similar to the Grand Vin but less potential for aging as it gets a shorter barrel maturity. The wine has the velvety typical of Pomerol. On the nose aromas of wild berries, cherries and chocolate. But also smoke and pepper. Gentle tannins on the palate. The wine is an outstanding performance, blending abundant black raspberry and blackberry fruit with hints of camphor, black truffles and subtle new oak. Opulent, round and generously endowed with impressive purity as well as an advanced style, should drink him young. On the palate with velor-like texture, fantastic balance, the tannins are surprisingly fine, sublime finale, in the end you can feel the delicate bitterness of the tannins on the tongue, ends with Darjeeling and liquorice with a long finish. Contains 13,5% alcohol and is drunk by the wine aerator at 18 degrees.
> Moet & Chandon Champagner N.I.R. 0,75l
Der Dry Rosé zeigt sich mit einer relativ hohen Dosage 30 g Zucker pro Liter besonders sanft und intensiv fruchtig. Die Assemblage besteht zu 45 - 55% aus Pinot-Noir-Trauben, die dem Wein einen intensiv fruchtigen Geschmack verleihen, zu 35 - 45% aus Pinot-Meunier-Trauben, die eine einzigartige Fleischigkeit mit ins Spiel bringen und zu 5 - 10% aus Chardonnay, ist verantwortlich für den frischen Charakter des tollen Champagners. Damit ist der Nectar Rose eine der ausgefallenen Kreationen aus dem Traditionshaus. Lebhaft und großzügig verbindet er intensiv-tropische Fruchtnoten mit einer sinnlichen Gaumennote und einem frischen Abgang. Diese Kombination ist es, die diesen vollmundigen Champagner zu einem besonderen Genuss werden lässt. Enthält 12,0% Alkoholgehalt und wird gekühlt bei 8 Grad getrunken. Der Clou an diesem Dry Rosé ist, dass man ihn sowohl pur als auch auf Eis genießen kann.
The Dry Rosé shows a particularly high dosage of 30 g of sugar per liter, particularly gentle and intense fruity. The Assemblage consists to 45 - 55% of Pinot Noir grapes, which give the wine an intense fruity flavor, to 35 - 45% of Pinot Meunier grapes, which bring a unique fleshiness into play and to 5 - 10% from Chardonnay, is responsible for the fresh character of the splendid champagne. Thus, the Nectar Rose is one of the unusual creations from the traditional house. Lively and generous, it combines intense tropical fruit notes with a sensual hint of palate and a fresh finish. It is this combination that makes this full-bodied champagne a special treat. Contains 12.0% alcohol content and is drunk chilled at 8 degrees in champagne glass. The highlight of this Dry Rosé is that you can enjoy it both on its own and on ice.
> Aperitif Sea Breeze Cocktail
4cl Grey Goose Wodka, 6cl Ocean Spry Cranberrynektar, 3cl frischer Grapefruitsaft, 2cl frischer Limettensaft. 38% Alkoholgehalt. Alle Zutaten in einen Shaker mit Eiswürfel gut schütteln und dann durch das Barsieb in ein Vorgekühltes Cocktailglas abseihen. Dekoration kann entweder eine Orangenscheibe am Spieß oder frische Minzeblätter und ein blaue Weintraube sein.
4cl Grey Goose Vodka, 6cl Ocean Spry cranberry nectar, 3cl fresh grapefruit juice, 2cl fresh lime juice. 38% alcohol content. Shake all ingredients well in a shaker with ice cubes and then strain through the strainer into a pre-cooled cocktail glass. Decoration can be either a slice of orange on a skewer or fresh mint leaves and a blue grape.
Die genaue Weinkunde und mehr steht in meinem online book Kapitel C Punkt 2. Wie Lagerung, Erstellung, Kühlung, Weinbegriffe, Rebsorten und schon 25 internationale Cocktail mit Rezepturen, Trends wo alle 14 Tage im XI. Kapitel meines online Buch ein neuer Cocktail hinzukommt,
The exact wine pair and more is in my online book chapter C point 2 up there the Link. How storage, creation, cooling, vines, grape varieties and already 25 international cocktail with recipes, trends where every 14 days in the XI. Chapter of my online book a new cocktail.
then Prost or Cheers or Santé or Cin cin or Salud or Skål or Evviva