Bonjour and hallo my name is Richard. I am inter alia a Cuisinier et Patron, Consultant, Counselor. Well let´s get ready to rumble! More about my expertice in my meaningful online book is a Link. Here my modern nouvelle cuisine menu and wine recommendation also new cocktail, where all changes once a month and maybe it´s a stimulus for you, well enjoy it and merci.
Now my cooking Entertainment with different fresh courses of the modern menu la cuisine régionale du marché mondial. I have all created them in new organizational structure la modern classic nouvelle cuisine. Now the contemporary slogan for Gourmet- Haute- Regional Cuisines:
En Cuisine, comme dans tous les arts, la simplicité est la le signe de la perfection.
In kitchens, as in all arts, the simplicity is the identification of perfection.
In Küchen ist, wie in allen Künsten die Einfachheit der Ausweis der Perfektion.
Attention you look my new Menu la modern classic, nouvelle Cuisine and Buffet Pages. You can have a look at all my created modern, classic nouvelle cuisine menus with 7 dishes description on the respective year link below and also enlarge all. Maybe you will receive such a new stimulus for you. Also one video from Paul Bocuse on his last birthday, trendsetter, century cook since 1965 with his teaching maxim.
https://www.gewerbedr.at/Menu2018.html
https://www.gewerbedr.at/Menu2019.html
https://www.gewerbedr.at/Menu2020.html
Now my creative and tasteful new global modern classic nouvelle cuisine of the fresh market Link:
https://www.gewerbedr.at/NouvelleCuisine.html
Here my handwork in creativity and innovation in the bourgeois not luxury catering buffet in new- time layout with some pictures, visit my Link.
https://www.gewerbedr.at/Buffet.html
Thereof you see my different, creative modern menu also wild, vegetarian, vegan and normal dishes. All my dishes can be an new inspiration for you, because we never heard in life to learn.
What leads to a complete recovery for you?
Well a first class ambience with great innovative, creative food and beverage and emotions. Also the global best design of facilities and fittings decor and great equipment rooms and halls. Seasonal, regional, global fresh ingredients with gorgeous drinks and top service. All the wishes can be read by emphaty. Acurat the all around package Nature, Nature, Culture, Adventure...
Now the Group works as a learning and leisure destination in California. With property shares and ownership interest by Post Ranch Inn, Jean-Michel Cousteau Fiji Islands Resort, Hana Kai Maui Hotel, Sea Ranch Lodge. With stunning sea views and wonderful nature. It operates also a national park and a learning institute. Park Lodges, retreat centers are offer and Cavallopoint the lodge at the golden gate.
It has a natural restaurant and bar/ lounge, a healing center, great herbal atrium, a first class wine and olive oil center, own promenade and ample leisure paths. As well as event venues in different configurations. The profitable annual business plan includes great innovative programs on topics as environment, training of management, wellness, cooking, the arts and fitness with extensive landscape for many kinds of sports activities.
The 200,000 square foot project Cavallopoint on 45 acres in San Francisco Bay includes 142 rooms, 11,000 square feet of spa facilities, 15,000 square feet of event space of any kind. Make a round trip through the wonderful natural landscapes and sea views.
Let yourself be inspired and treat yourself to something! Now you have become curious? Click first on the Links and will be surprised:
https://www.cavallopoint.com/index.html or
https://www.postranchinn.com/ or
You're gonna meet some gentle people there.
Thank you for visiting my Public Relations Page Entertainment Richard of Food and Beverage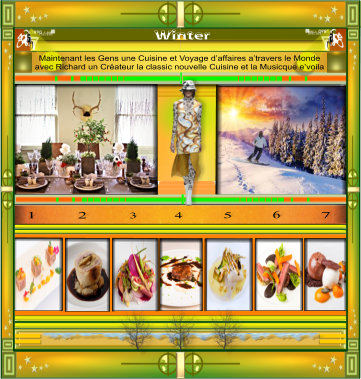 1. Amuse Gueule besteht aus einer Spanferkel mit Schweineleber und Thymian, Pistazien - Terrine mit Sevilla Orangenkompott, Kapuziner- kresse, Mikrokresse, Essblumen
Amuse Gueule consists of a suckling pig with pork liver and thyme, pistachios as a terrine with Seville orange compote, nasturtium microcress, edible flowers
2. Wachtelstrudel mit Entenleber, Rosmarin in Filoteig an Hähnchen Mousse, Apfelchutney und Madairasauce aus der Karkasse gezogen
Quail strudel pulled out of the carcass with duck liver, rosemary in filo pastry on chicken mousse, apple chutney and madaira sauce
3. Süß und Sauer Gemüse besteht aus rote Bete, Ringelblumen Möhren, Amaranth Chips, fermentierte Milchcreme, Kürbiskernöl, Baby Zucchini, Rettich, Sellerie, Selleriesamen, lila Hertige Karotte, Apfelblüte
Sweet and sour vegetables consist of beetroot, marigold carrots, amaranth chips, fermented milk cream, pumpkin seed oil, baby zucchini, radish, celery, celery seeds, purple carrot, apple blossom
4. Kalbsbacke in Kalbsfond, Prise Kakao, Wacholder, Nelken, Bordeaux geschmort an Süßkartoffelcreme und Petersilien Pesto
Veal cheek in veal stock, pinch of cocoa, juniper, cloves, Bordeaux braised with sweet potato cream and parsley pesto
5. Glasiges Kabeljaufilet gestippt in Bagna Cáuda mit Röstzwiebel Püree und gegrillten Artischocken mit Frühlingszwiebel, Puffreis auf einer Véloute de Poisson
Glassy cod fillet dipped in Bagna Cáuda with roasted onion puree and grilled artichokes with spring onion, puffed rice on a Véloute de Poisson
6. Niedergar rosa Aberdeen Angus Rib-Eye an Steinpilz Püree, Macaire Kartoffeln, gegrillter Ibericospeck und reduzierte Demi glace mit Zimt und gedämpfte Möhren
Lower cooking pink Aberdeen Angus Rib-Eye on porcini puree, Macaire potatoes, grilled Iberico bacon and reduced demi glace with cinnamon and steamed carrots
7. Valrhona Mousse auf Schokoladeerde, Schokoladetuile mit Crème fraîche Sorbet an pochierte Kürbis Kugel in Bourbon Vanille, geröstete Kürbiskerne
Valrhona mousse on chocolate earth, chocolate tub, with crème fraîche sorbet on poached pumpkin balls in bourbon vanilla, roasted pumpkin seeds
Zu Tisch in Nordschweden - Cuisines des terriors
> 2015 Chateau Clerec Milon Rothschild
Der zu 70% aus Cabernet Sauvignon bestehenden Cuvée mit 20% Merlot, 10% Cabernet Franc sind die hierfür verwendeten Rebsorten. Trotzdem benötigt auch ein Clerc Milon etwas Reife. Clerc Milon Weine sind komplex und tief, geprägt von Finesse und einem angenehm fruchtigen Merlot. Er schmeichelt dem Gaumen mit seidiger Struktur, und sehr komplexem Bouquet, herrlicher Duft nach gereiften dunklen Beeren (schwarze Johannisbeeren, Brombeeren), gefolgt von feinwürzigen Röst- noten. Vollmundig und füllig am Gaumen, mit festem, reifem Tannin und den wiederkehrenden intensiv- würzigen Johannisbeeraromen, außerdem feine Anklänge von Zedernholz, Vanille, Kaffee und Lakritz. Langer, sanfter Abgang. Besitzt einen 13,0% Alkoholgehalt und wird gekühlt bei 17-18° durch den Weinbelüfter ins Rotweinglas getrunken.
The cuvée consisting of 70% Cabernet Sauvignon with 20% Merlot, 10% Cabernet Franc are the grape varieties used for this. Nevertheless, a Clerc Milon also needs some maturity. Clerc Milon wines are complex and deep, characterized by finesse and a pleasantly fruity Merlot. It flatters the palate with a silky structure and a very complex bouquet, wonderful scent of ripened dark berries (black currants, blackberries), followed by delicately spicy roasted notes. Full-bodied and full on the palate, with firm, ripe tannins and the recurring intensely spicy currant aromas, as well as subtle hints of cedar, vanilla, coffee and liquorice. Long, smooth finish. Has a 13.0% alcohol content and is drunk chilled at 17-18 ° through the wine aerator into the red wine glass.
> 2004 Dom Perignon Rose Vintage Ltd. Edition
Ein Dom Pérignon ist Couture im Glas, die stets mehr ist als die Summe ihrer Teile, ein Champagner, der auf keinem Rezept beruht, sondern nur auf den Künsten seines Machers. Die Rebsorten sind Chardonnay und Pinot Noir zu gleichen Teilen. Der Champagner zeichnet sich durch seine Rundheit und eine bemerkenswert ausgeglichene, präzise und erlesene Struktur aus. Der komplexe Aromenreichtum steigert sich schließlich zu einem vibrierenden Finale, das mit einer leicht bitteren Note ausklingt. Der faszinierend kupferfarbene 2004 Dom Pérignon Rosé hat einen wunderschönen zarten Bouquet von roten Früchten und zeigt eine große Reinheit und Frische. Auf der Hefe für mindestens neun Jahre geplant, um die Tannine zu glätten, zeigt das 2004 eine schwerelose Kraft am Gaumen. Es hat einen tiefen und konzentrierten, sehr eleganten Pinot Charakter. Die 2004 ist intensiv und weinig, aber rein, präzise und sehr gut. Mittleres Lachsrosa mit Zyklam- reflexen, feines, anhaltendes Mousseux. Feine rote Waldbeeren mit Reminiszenzen an frische Brombeeren und Erdbeeren, ein Hauch von Cassis, kandierte Mandarinenzesten, ein Hauch von Nougat. Die anfänglich blumigen und duftenden Aromanoten gehen schnell über in Nuancen von Orangenschalen und Trockenobst, untermalt von reifen Erntefrüchten und holzigen Gewürzen. Stoffig, frische rotbeerige Nuancen, kernige Textur, frische und intensive Stilistik, ein Hauch von weißem Pfirsich, endet in einem animierenden Touch von Limetten, der lange im Abgang nachklingt. Besitzt einen 12,5% Alkoholgehalt und wird gekühlt bei 6-9° im Champagnerglas getrunken.
A Dom Pérignon is couture in a glass that is always more than the sum of its parts, a champagne that is not based on a recipe, but only on the arts of its maker. The grape varieties are Chardonnay and Pinot Noir in equal parts. The champagne is characterized by its roundness and a remarkably balanced, precise and exquisite structure. The complex wealth of aromas finally increases to a vibrating finale that ends with a slightly bitter note. The fascinating copper-colored 2004 Dom Pérignon Rosé has a wonderful delicate bouquet of red fruits and shows great purity and freshness. Planned on the lees for at least nine years to smooth the tannins, this shows a weightless power on the palate in 2004. It has a deep and concentrated, very elegant Pinot character. The 2004 is intense and vinous, but pure, precise and very good. Medium salmon pink with cyclam reflexes, fine, persistent mousseux. Fine red forest berries with reminiscences of fresh blackberries and strawberries, a hint of cassis, candied mandarin zest, a hint of nougat. The initially floral and fragrant aromas quickly change into nuances of orange peel and dried fruit, accompanied by ripe crops and woody spices. Substantial, fresh red berry nuances, robust texture, fresh and intense style, a hint of white peach, ends in an animated touch of lime that lingers on the finish for a long time. It has a 12.5% ​​alcohol content and is drunk chilled at 6-9 ° in a champagne glass.
> Aperitiv Old Cuban Cocktail
4,5cl Ron Zacapa Centenario XO, 2cl frischer Limettensaft, 3cl Läuter- zucker, 2 Spritzer Angostura Bitter, 6cl Champagner, frische Minzblätter am Stiel. 55% Alkoholgehalt. Limettensaft, Zuckersirup und Minzblätter in den Shaker geben und leicht andrücken. Rum, Angostura und Eis dazu geben und etwa 10 Sekunden shaken.Durch ein feines Sieb in eine Vorgekühlte Champagnerschale gießen, mit Champagner toppen. Mit frischer Minze garnieren é voila.
4.5cl Ron Zacapa Centenario XO, 2cl fresh lime juice, 3cl refined sugar, 2 sprinkles of Angostura bitter, 6cl champagne, fresh mint leaves on a stick. 55% alcohol. Put lime juice, sugar syrup and mint leaves in the shaker and press gently. Add rum, angostura and ice and shake for about 10 seconds. Pour through a fine sieve into a pre-chilled champagne bowl, top with champagne. Garnish with fresh mint é voila.
Die genaue Weinkunde und mehr steht in meinem online book Kapitel C Punkt 2. Wie Lagerung und Erstellung, Kühlung, Weinbegriffe und Rebsorten und schon 73 internationale Cocktail mit Rezepturen und 78 Mocktails Rezepte, wo einmal im Monat in meinem online Buch Kapitel XI., dass vorerst den Schluß bildet, ein neuer alkoholischer Cocktail Klassiker dazu kommt.
The exact oenology and more is available in my online book chapter C point 2. Such as storage and preparation, refrigeration, wine terms, grape varieties and already 73 international cocktail recipes and 78 mocktails recipes, changes once a moth in the XI. Chapter of my online book, a new classic alcoholic cocktail comes along.
then Prost or Cheers or Santé or Cin cin or Salud or Skål